Call for tender procedure allows you to make requests from various vendors, services and price.We can select the vendor as we want to approach.
First step is to make sure the Purchase Agreement checkbox is enabled.

PURCHASE -> CONFIGURATION -> SETTINGS -> ORDERS -> PURCHASE AGREEMENTS

Let me show you how the configuration of call for tender looks like.

PURCHASE -> CONFIG -> PURCHASE AGREEMENT TYPE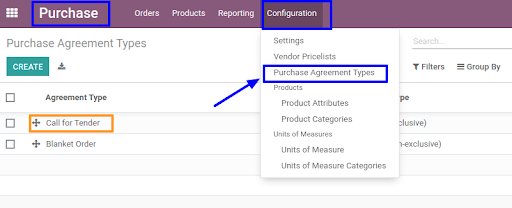 This is what Call for tender config looks like:

Lets create a new Purchase Agreement. 

PURCHASE -> ORDERS -> PURCHASE AGREEMENTS -> CREATE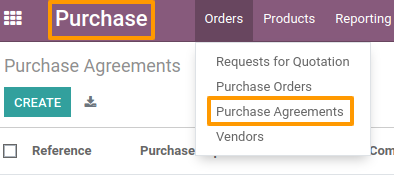 Here I have added one product that is Acoustic Block Screens. Once you have set the quantity and price CONFIRM IT.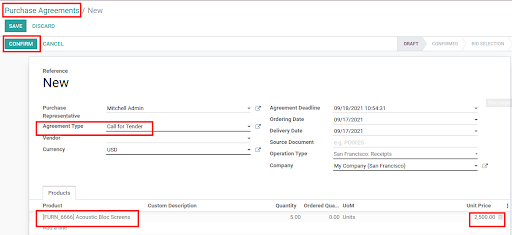 Once you have confirmed, you can add RFQ as you want and them to the vendors.Here, now you can see there is no RFQ. 

Let's assume the vendor has sent me the price details and I have entered them into the RFQ'S. In one RFQ I have entered the unit price as $2000 while for another one $3000.

RFQ/ORDER (top right corner of your purchase agreement) -> CREATE

Below is the view for the RFQ's. CONFIRM both of the RFQ's which would lead to to updating the total value. 

Here's the fist RFQ.

And here's the other one. 

Here, you can see that the prices are updated.

Here you can see two RFQ.
Now let's confirm the receipt. After doing so the values will be updated. 

PURCHASE AGREEMENT -> RFQ's/ORDERS -> The quotation you choose -> RECEIPT -> VALIDATE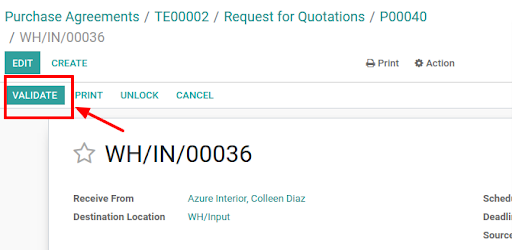 After confirming this one RFQ all the other RFQ will be cancelled.

The purchase order will be automatically created after this progress.

ORDER -> PURCHASE ORDER 
There you can see your purchase order which is automatically created.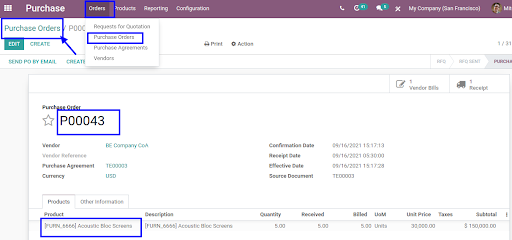 This was it for today. Hope you learned something new.